Here's another roundup post, which is all I can manage at the moment.
But first …
"Knock, knock"
"Who's there?"
"Ding-dong!"
"Ding-dong who?"
"Floooooo!"
That's Asher's joke du jour, or rather joke of the week. We hear it a lot these days.
It's raining. The thunderstorm the weather folks predicted is right on schedule. Holy hailstones! We are getting a wee bit sick of the rain, here in Northern California. We're far more used to dire predictions of drought and onus of water conservation than full rivers, threatened levees, and flooding. Ian's been running about in his galoshes, tending to pumps vigilantly to keep the water moving from our backyard, where it wants to stay, out and around to the front yard, where it can go on its merry way toward Arcade Creek. The neighbors generously give us all of their runoff, and our drainage—which I swear is like 100 percent better than it used to be—cannot keep up.
Speaking of Arcade Creek, I'm wondering if there's a place where we can go and visit it—some kind of public land or easement where we can see and appreciate it. You see, all of our neighborhood drains say, "No dumping! Protect Our Creeks … Drains to Arcade Creek." Asher has memorized this very important message and is keen to point out every such oval placard he sees on every storm drain in the neighborhood. This makes me happy; he's getting an environmental consciousness at a young age. Don't you think it would be good if we were to actually find Arcade Creek and explore it a bit? I'm betting Arcade Creek is plenty full right now.
Now, a paragraph ago I mentioned Ian's galoshes. He's very practical, you see. His galoshes are all black and he and bought them from Home Depot on one extremely rainy day in January. I've decided that I need a pair of galoshes, too—not so much because I slog about in our flooded backyard, fussing with pumps and worrying about our house flooding, but because I am, as you may know by now, a chicken farmer. If you don't believe me, you can read here on my blog about our chickens, our chicken coop, and the ten baby chicks that we're raising. Or, you can head on over to The Wonder of Childhood, a new online magazine published by my friend Lisa Boisvert Mackenzie. Lisa is bringing beautiful articles and inspiration on the topics of parenting, education, nourishing, living, and story, with a flourish and all the seasoning of her experience as a Waldorf childcare provider and mother. If you click on "Living," you'll see my article, "Raising Chicks," detailing our chicken farming adventures. Many thanks to Lisa for letting me be a part of her inaugural issue. I'm looking forward to being inspired on a regular basis by The Wonder of Childhood. (Thank you, Lisa, for including me!)
Okay, so back to the topic of galoshes: Dang it, I need my own! Because chicken farmers, like me, need to walk into mucky chicken runs to feed hens, collect eggs, and scatter oh-so-yummy scratch for the girlies. Said chicken run was delightfully dry and clean last July when we built it. But now, almost eight months later, it's a muddy, poopy mess. I'm really looking forward to things drying out around here! So, galoshes. I have found a colorful pair I want to by for $39.95 and a black and white pair I could live with for $29.95. What do you think I should buy? Wellies style in paisley or black and white, William Morris floral?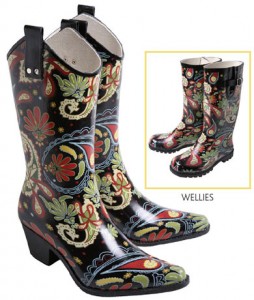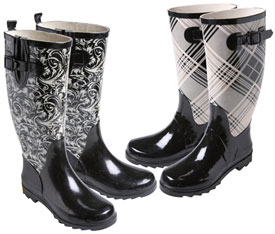 Okay, I'm done now. Generally speaking I'm too keen on writing about stuff, even though I admit I really like stuff. I try not to make it my focus in life.
So, on to other things…. Did I mention that it's raining? Today, Lucas's third-grade class at Sacramento Waldorf school was supposed to shear the sheep. Unfortunately wet fleece doesn't shear well or easily, I'm told. I have been asked to take photographs of the third graders shearing the sheep, which is thrilling on so many levels. Although, I have to admit I'm not sorry today's shearing was canceled because of the weather. Although the sheep probably don't care much about the rain, and third graders (in my experience) don't care a lick about getting wet, my camera prefers to stay dry, dry, dry.
And now, it's dinner time. Bye!