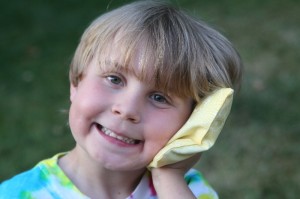 This article is excerpted from our Midsummer Festival E-Book.
Herbs harvested at Midsummer and during the Feast of Saint John (June 24, 2013) are said to be especially magical. Certain herbs, such as mugwort, laurel, sage, or marigold petals, are believed to give prophetic dreams if placed under a pillow at night! Will it work, do you think? Wouldn't it be fun to find out?
It's best to use dried herbs for your dream pillow. You'll need two squares of muslin, two squares of yellow cotton fabric (about 5" by 5"), sewing machine, needle and thread, dried herbs, and a hot iron.
Cut your muslin squares to be about ½ inch smaller than your yellow squares. Sew around the muslin squares, leaving a 2 inch gap. Cut the corners off, but don't cut into the stitching (this makes the pillow easier to turn inside out). Now turn your pillow inside out and iron it flat. Spoon in your dried herbs. Use a needle and thread to stitch up the hole. Now make the yellow pillow case. Put your "right" or pretty sides together. Sew around the three sides and the corners of the fourth side using a ¼ inch seam. Cut off the inside-out corners as before. Turn the pillow right side out. Use a pencil to make the corners look nice. Iron the yellow pillow case flat. Insert the inner muslin pillow into the yellow case. Turn in ¼ inch seam at the opening and iron it. Now sew up the fourth side, using a top stitch.
Now place your herbal dream pillow under your head before bedtime. Perhaps you'll dream of the future! Or perhaps you'll have amazing, fanciful dream that you can write down in a dream journal or draw a picture of in the morning.
For more fun midsummer crafts, herb lore, Waldorf verses, handwork, and ways to celebrate Midsummer and St. John's Day, please check out the Midsummer Festival E-Book by yours truly, Sara Wilson of Love in the Suburbs, and the fabulously talented Eileen Straiton of Little Acorn Learning. Click the link or the cover photo above to go directly to the page to find out more.