My son is so competent! It was a lot to ask of him, really: sending him to the CSUS Aquatics Camp for five full days, where he was in the youngest group, the Guppies. It was physically challenging and challenging emotionally to be with a group of kids he didn't know, with an instructor he didn't know, doing things he had never done before. But oh, did he rise to the occasion!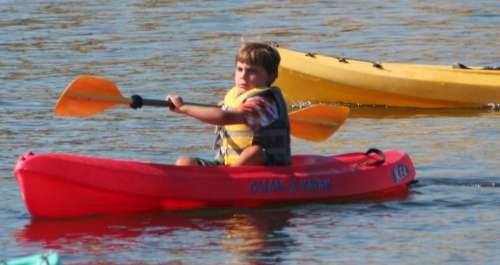 The first day the kids learned canoeing. The second day was sailing. The third, kayaking. And the fourth day they tried wind-surfing.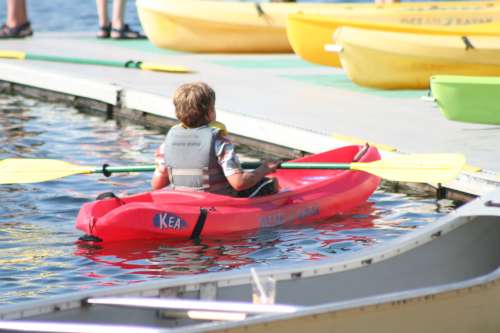 Parents were invited to come at the end of the fourth day to see what our little angels could do. Ian, Asher and I went to see and try some of the water sports ourselves. Lucas was so natural, so confident. "Wanna go on the hydro bikes, Dad?"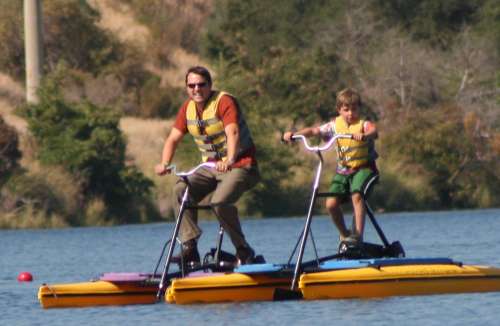 We biked—on the water!— and kayaked with Lucas, with Ian and I taking turns. I had hoped we could all go sailing on the tiny sailboats, with Lucas at the tiller, but unfortunately the timing didn't work out and Asher wouldn't tolerate the life vest.
While kayaking, Lucas said, "Mom, do you dare me to flip over? Do you double-dare me?" I had to dare, and double- and triple-dare—even "ten-dare" him to flip over (to flip over a perfectly good boat on purpose), while he savored the suspenseful moment. I had to bite my lip and trust that he knew what he was doing. He flipped the kayak over, then righted it, and climbed back aboard, without dropping his paddle. It was awesome.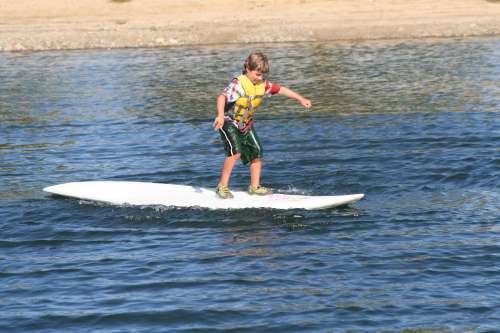 Then Lucas demonstrated the "wiggle board," which I guess is a wind-surf board without the sail. He stood and jumped and wiggled it all over, and eventually paddled it in to shore.
I flashed to a picture of him as a young man on a beach, hanging out with friends and catching waves. And there will be girls (or boys, whatever!) gazing at him, admiring his prowess in the water. And I'm still savoring that dreamy image.