Gung Hay Fat Choy! Last night we celebrated Chinese New Year or the Lunar New Year. It was the first time for us, and it was a bit last-minute, but we had enough red construction paper on hand to make it fun.
We made these sweet and simple paper lanterns and lit candles. They were very festive. I did some reading about Chinese paper cutting arts and watched a couple of YouTube videos (like this simple tutorial). I didn't know about this beautiful art form before. Go to Google and search for "Chinese paper cutting" and then click "Images." The examples you'll see there are amazing. I fell in love.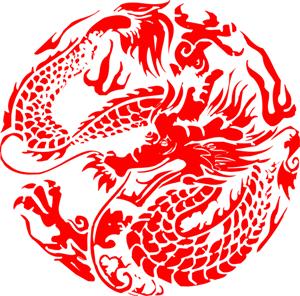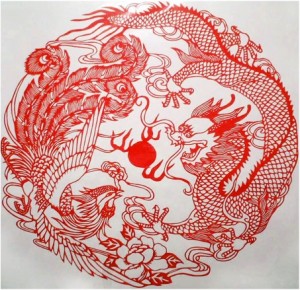 These are just two examples I found and I'm sorry I can't credit the artists who made them. This year is the Year of the Dragon, but you already know that.
So while Daddy made us a gorgeous chicken and stir-fried vegetable dinner over brown rice, we started cutting. Our paper lanterns glowed merrily beside us.
To make this yourself, simply trim your paper into a square, fold in half and fold in half again. Now fold it into a triangle, just like you would if you were making a paper snowflake. Now begin cutting. Chevrons, parallel lines, swirls, squares, triangles, hearts, diamonds, etc. are all good shapes to cut. When you are finished cutting, simply unfold your paper. Voila!
It is always such a delight when the children decide to go along with one of my harebrained crafting schemes. Lucas and I both enjoyed this "paper flower" making a lot and we decided to make enough  flags to create a banner. We made seven square flags.
Lucas also made his own good luck envelope and filled it with an origami swan, some coins, and a blessing. He used his special fountain pen that he got from Santa. It seems he knows rather more about Chinese New Year than I realized, with some cultural mixing at play.
Asher helped a bit, too, but he doesn't like to be told how to make things. Mostly he wants a chance to use the scissors. To make our banner, we just threaded a piece of red yarn through the holes along the top of each flag.
And this is how our lucky banner looks this morning, hanging near our kitchen. I think it looks terrific and feel that it's going to do great double duty for Valentine's Day, too. I can't help but cut hearts, I guess. (Now I see I'd better cut that extra long piece of yarn.)
I think I'm going to try making some "window flowers" out of translucent red kite paper. Maybe I can try making one that isn't symmetrical, as most examples I see from this Chinese art form are not. I'll let you know how that goes. Also, I found that you can buy pieces of Chinese paper art on Amazon.com if you want something authentic.