My parents bought me this awesome sewing machine for Christmas. It's my third machine. I am still learning and I'm kind of hard on them. (For the record, two of my sewing machines work and one of them is a perfect learning machine. I thought I might let Lucas take it for a spin.) But this new one—this Janome New Home—is all mine. (Besides, Mom gets nervous whenever I go near her Bernina.)
Back in December I conceived of giving Asher an Earthbender costume, inspired by one of our family's favorite shows, Avatar the Last Airbender. Asher has always been fondest of the Earthbending skill, and when he plays at "bending," he is always an Earthbender. Maybe it's because green is his favorite color. At first, I thought this costume might be a Christmas gift, but then I realized it was more appropriate for his sixth birthday.
So I bought a mini gi. (Actually, I bought two. The first was too mini.) I know my limitations and I realized I could spiff-up a gi more efficiently than I could make one from scratch.
I spent a day last week dyeing the top green and the pants and belt a taupe color. Pale yellow would have been nicer, but that wasn't an option when buying dye.
My mom and I carefully picked out some fancy trim, and last night I got my new sewing machine out and put it to use. I even changed the needle to a denim one, to go through all the layers of the gi edge! I read the manual and everything! Amazingly, my boys slept through my sewing.
I cut off the sleeves and sewed on this gold and green fringe. I wanted the costume to look like a cool martial arts gi, but not exactly like a karate uniform. I have one day left before Asher's birthday gift will be presented to him. I'm presently debating about whether to use the sleeves I cut off to make wrist bands or a headband. I hope to decorate this final item(s) with the Earthbender symbol.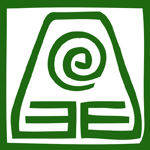 Today I spent the morning in Asher's kindergarten class with him, to help celebrate his birthday at school. His teacher told me that yesterday she asked him what he wished for. He said he wished for infinite wishes, and for a closet full of costumes. A CLOSET FULL OF COSTUMES!
Maybe I actually have made him the right birthday gift. … Or maybe he won't wear it at all. That's also a possibility. If he does like it and wear it, I'll be sure to get a photo.
Anyway, there's just one hour left in this Circle of Moms Top 25 Creative Moms contest. Here's the button to vote for me. My gratitude goes out to all the wonderful friends and readers who have voted for me daily over the last two weeks. Thank you for the support and for helping me get into and stay in the Top 25! Voting closes at 4 p.m. PST on 1/30.
Thanks again!