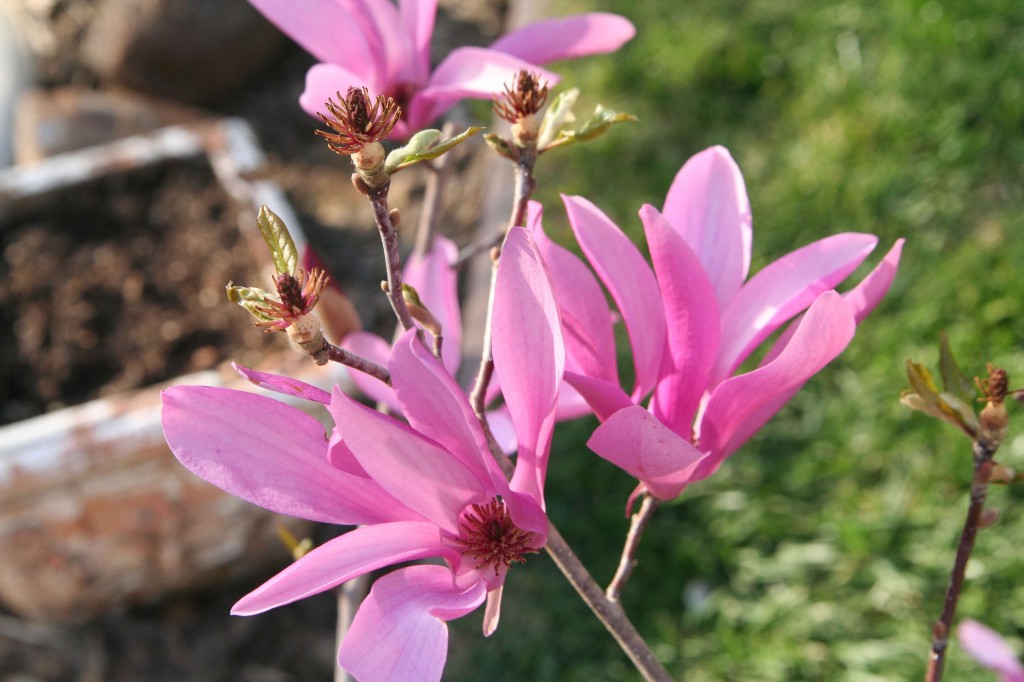 The year has turned a quarter, and I'm loving the open windows and fresh breezes. I'm wearing a sundress! Ian and I had some much-needed time out together this weekend and it was wonderful. Some spring cleaning is in order, but you needn't worry because we won't try to do it all at once. We like to ease into these things a little bit each day. My dear hubby is currently tackling his pile of ironing.
I've pulled the shorts from older cousins out of the garage for Lucas to wear in the coming weeks and given away a box, a giant bag, and two grocery sacks of toddler clothes to two darling boys we know. Out with the old and too-small!
Lucas and I have planted some seeds straight into the ground, which is something I've never had much luck with before. We figure it's unlikely we'll have anymore frost, and since we'll probably get several more rains we'll take advantage of the free water. We planted some beans, red chard, spinach, poppies, nasturtiums, and morning glories, all from seed packets I had lying around. I don't know if we'll get lucky and get some shoots, but it was worth a shot and better than discarding seeds from past years.
We have gathered together some of our spring books to enjoy. Here are some favorites that we own.
Spring: Poems, Songs and Stories, Winstones Press
The Spring Equinox: Celebrating the Greening of the Earth, by Ellen Jackson
When the Earth Wakes, by Ani Rucki
Too Many Rabbits and Other Fingerplays About Animals, Nature, Weather, and the Universe, by Kay Cooper
The Lion and the Little Red Bird, by Elisa Kleven
The Country Bunny and the Little Gold Shoes, by DuBose Heyward
The Golden Egg Book, by Margaret Wise Brown
Selected spring poems from The Chidren's Hour Best Loved Poems, vol 5
Flower Fairies of the Spring, by Cecily Mary Barker
Best Hikes with Children Around Sacramento, Bill McMillon
Hope you"re enjoying spring weather, spring cleaning, and spring reading, too!