Saint Patrick's Day is coming and I have to admit, it's a holiday that I quite like. I just always have liked it; don't really know why. I have always made sure not to be pinched by wearing plenty of green on Saint Patrick's Day.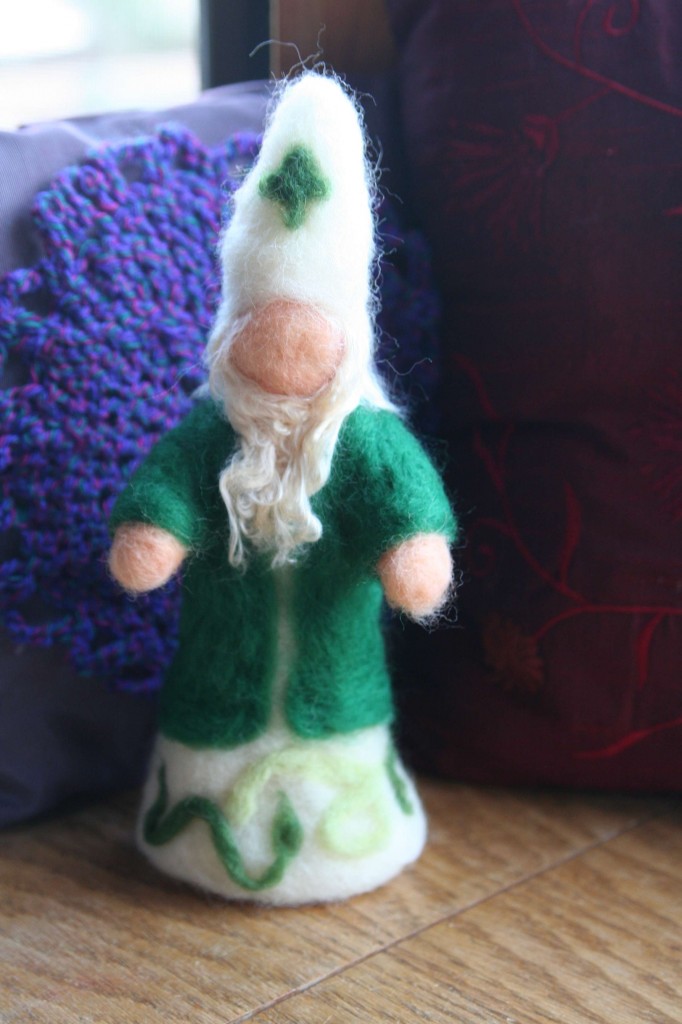 I was inspired to needle-felt a Saint Patrick, mainly to see if I could make a doll this big. He's almost 12 inches tall and made entirely out of wool roving, two pipe cleaners, and some sort of silky fiber that Parnasus gave me a long time ago, which was perfect for his soft beard and hair. I don't really know what it is. His bishop's hat sports a jaunty shamrock, which is kind of like a cross, too, and it gives a nature connection that I appreciate. I felted little green snakes onto Patrick's robes. I'm happy with how he turned out! (Now I know I can make a similar Father Christmas, Saint Nicholas, or seasonal doll like Queen Summer or King Winter, or whatever.)
Saint Patrick's Day isn't a big holiday in the Waldorf school, which could be because it falls just before the spring equinox and Easter. Since Lucas is in second grade this year and the curriculum has focused on lots of stories about saints, I figured we would bring Saint Patrick into our home.
Some very brief online research reveals that the legend of Saint Patrick is that he drove all the snakes out of Ireland, which may be a metaphor of Christianity conquering the indigenous, pagan (snaky) religion. I also found plenty of sites that claimed this story and its interpretation was nonsense. Probably Ireland never had snakes. It's known that Patrick was the son of a wealthy Roman-British family who was captured, taken to Ireland, and enslaved for six years. Later he escaped and returned to Britain, entered the priesthood and studied for years, and then became a missionary in Ireland again, where he converted people to Christianity for twenty years. An angel told him in a dream to convert the Irish. He may have used the three-lobed shamrock to teach the Irish people about the Holy Trinity. Who knows?


The Dear Little Shamrock
There's a dear little plant that grows in Ireland.
'Twas Saint Patrick himself sure that set it.
And the sun on his labor with pleasure did smile.
And a tear from his eyes oft-times wet it.
It grows thro' the bog, thro' the brake, and the mireland,
And it's called the dear little Shamrock of Ireland.

That dear little plant still grows in our land,
Fresh and fair as the daughters of Erin,
Whose smiles can bewitch, and whose eyes can command,
In each climate they ever appear in:
For they shine thro' the bog, thro' the brake, and the mireland,
Just like their own dear little Shamrock of Ireland.

That dear little plant that springs from our soil,
When its three little leaves are extended,
Denotes from the stalk we together should toil,
And ourselves by ourselves be befriended.
And still thro' the bog, thro' the brake, and the mireland,
From one root should branch, like the Shamrock of Ireland.

—Andrew Cherry