It's Santa Lucia Day today. My stjärngossar (star boys) helped me make Lussekatter (Santa Lucia buns) last night.
It worked well to have them help mix the dough, then later form the buns before bedtime.
Aren't they pretty? I should have been more liberal with the egg yolk wash over the top and I should have had my oven a little cooler. I don't do this kind of baking very often because if I did I would EAT all the buns. This year we used the "traditional Lucia buns" recipe that our kids' Waldorf school provided. It worked beautifully. I used a bit of saffron, which may have been too old to color the dough much, and some cardamom as well for some kick. I didn't have raisins on hand so we used dried currants instead.
2 packages active dry yeast
1/2 c warm water (about 110 degrees F)
1 1/2 c warm milk
1 c sugar
3/4 c butter, softened and cut into pieces
1 egg
3/4 teaspoon salt
1/4 teaspoon saffron (or use 1 1/2 teaspoon ground cardamom and 1 teaspoon grated orange peel)
about 7 1/2 c all-purpose flour
about 1/2 c raisins (or currants)
2 egg yolks mixed with 1 1/2 tablespoons of water
In a large bowl combine yeast and water; let stand 5 minutes. Warm the milk and add the saffron to it. Blend in the milk, saffron, sugar, butter, egg, and salt. Stir in about 6 1/2 cups of flour to form a stiff dough. Turn dough onto a lightly floured surface and knead until smooth and elastic. Add flour as needed. Place dough into greased bowl and then turn over. Allow to rise in a warm place 1 hour, until doubled in size. Punch dough down, knead lightly again. Pinch off balls of dough about 1 1/2 inches in diameter and roll into a rope about 10 inches long. Curl ropes into S-shapes or into double S-shapes to make a curved cross. Put raisins into the centers of the curls. Cover and let rise about 1/2 hour, until almost double. Brush well with yolk and water mixture. Bake at 400 degrees for 10 minutes. Check often.
I also made this beautiful braided loaf. I don't know if I have ever made anything like this before and I am so pleased with how it turned out. Next time I think I'll turn down the oven just a tad and bake only about 22 minutes.
This morning, for Santa Lucia, I warmed the braided bread loaf and put candles in it. I drizzled a bit of powdered sugar glaze over the top and it was yummy! The kids took some Lussekatter buns to school for their teachers. And I had my dad over this morning for coffee and some bread. Then I indulged in watching several YouTube videos of Lucia festivals in Sweden. I love the music.
The night goes with heavy steps
around farm and cottage;
round the earth the sun has forsaken,
the shadows are brooding.
There in our darkened house,
stands with lighted candles
Saint Lucia, Saint Lucia.
The night passes, large and mute
now one hears wings
in every silent room
whispers as if from wings.
See, on our threshold stands
white-clad with candles in her hair
Saint Lucia, Saint Lucia.
The darkness shall soon depart
from the earth's valleys
then she speaks
a wonderful word to us.
The day shall be born anew
Rising from the rosy sky.
Saint Lucia, Saint Lucia.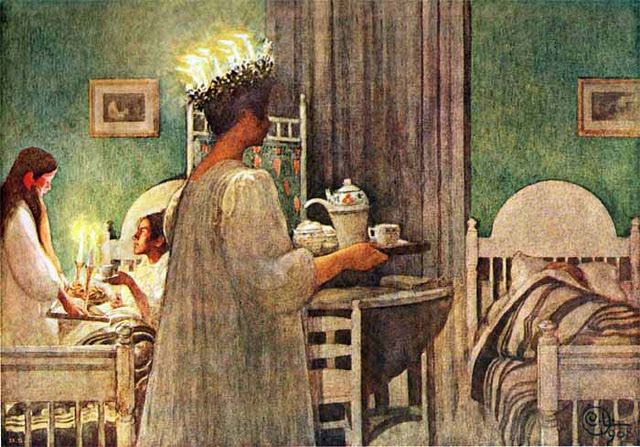 Carl Larsson, "Lucia Morning"
I admit I love these lesser known (at least to us) holidays. Our family can celebrate them or not, as we like and as our lives and time permit. We can make them what we wish because there aren't loads of people whose needs have to be considered, nor are there decades of family tradition to hold to or break, with all the accompanying risk that goes with breaking it. We don't hurt anyone's feelings by doing our own thing because no one in our extended families celebrates holidays like Saint Nicholas Day or Santa Lucia Day or Candlemas or Saint Patrick's Day. With just a little effort I can make otherwise ordinary days special for my children, just by choosing to celebrate. And these holidays don't require a month or more to get ready, the way that Christmas does. So these festivals will be a part of our family until they no longer serve us and enrich our lives in this way. For now, we're are enjoying them very much.